The world-famous Brazilian steakhouse, Fogo de Chão, is a meat lover's dream, with meat taking center stage. But can you safely savor Fogo's meaty richness while avoiding gluten, particularly people who have celiac disease or gluten sensitivity? Dining out presents complications because gluten may be found in everything, even salad dressings and desserts.
However, individuals following a gluten-free diet can still enjoy Fogo's decadent rodizio-style cuisine if they exercise caution when it comes to salad bars and sides and stick to naturally gluten-free grilled meats. We'll explain how to go around one eatery that's high in protein while still meeting your gluten-free requirements. Through evaluating menu items and posing pertinent inquiries, you can depart feeling fulfilled rather than appalled. If you have the appropriate information, you don't have to let dietary restrictions prevent you from enjoying Fogo's renowned cuts of tender beef, hog, lamb, and more.
What is Fogo De Chao?
Fogo de Chão is a Brazilian restaurant chain with a global presence. Important details regarding the restaurants of Fogo De Chão given below:
It was founded by the proprietors of a nearby churrascaria in Porto Alegre, Brazil, in 1979. It is an expert in grilling meats over an open flame in the "churrasco" manner.
The rodízio service, when waiters bring various meat skewers to the table and cut them for patrons.
Provides limitless meats, salad bar, and side dishes for a set charge during an all-you-can-eat dining experience.
There are numerous cuts of beef, hog, lamb, poultry, sausage, and other meat options.
Has an open kitchen design and a typical Brazilian eating ambiance.
Has grown to more than 55 sites in the United States, Brazil, Mexico, and other nations.
Popular restaurants for special occasions, business/group gatherings, and supper.
Well-known for its excellent grilled meats and Brazilian-inspired cuisine, as well as for its outstanding service.
Briefly said Fogo De Chão is a global brand of churrascaria restaurants that offers a rich, high-protein, Brazilian steakhouse experience to customers worldwide.
Understanding Gluten Fact
It's important to define gluten before we can discuss Fogo De Chao's gluten-free menu items in detail. Proteins called gluten can be found in wheat, barley, and rye. For certain individuals, gluten is the cause of a number of digestive problems. Eating out can be a little challenging if you have gluten sensitivity or celiac disease.
Fogo De Chao: A Heaven for Food Lovers
An Amazing Brazilian Steakhouse
Famous for its delicious churrasco-style grilling and rich history, Fogo De Chao is a Brazilian steakhouse. Fogo De Chao, well-known for its unlimited food service, is a meat lover's dream come true. However, what about people who have a gluten sensitivity?
The Diverse Menu
With an extensive selection of meats, gourmet salads, and Brazilian sides, Fogo De Chao has a varied menu. The majority of the meats and salad bar items are naturally gluten-free, which is fantastic news for those who are sensitive to gluten. Here, the emphasis is on premium cuts of perfectly seasoned meat and a variety of crisp, fresh salads.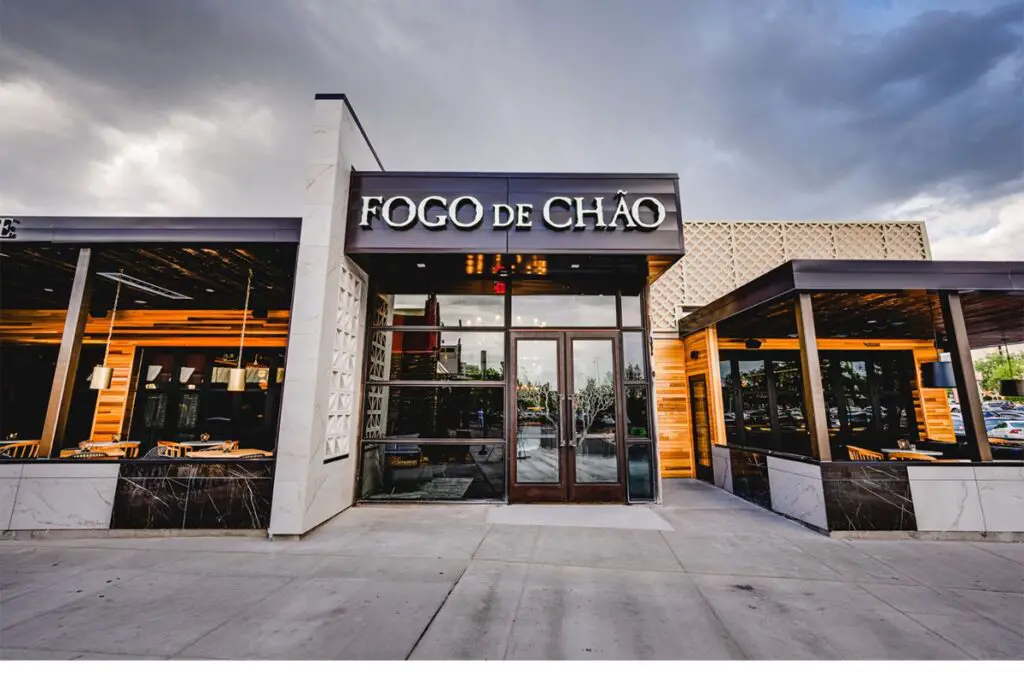 Gluten-Free Options at Fogo De Chao
The never-ending parade of meats at Fogo De Chao is the major draw. Rock salt is used to season and slow-roast various types of meat, such as delicious lamb chops and juicy filet mignon, to perfection. Best feature? They don't contain gluten by nature.
The A la Carte
The salad bar at Fogo De Chao has an abundance of gluten-free selections. You'll be greeted with savory dressings, specialty cheeses, and fresh vegetables. Just be careful—some salad dressings and croutons may contain gluten.
Consult the Gauchos
At Fogo De Chao, the expert meat carvers known as Gauchos are informed about the components of the dishes they prepare. Please feel free to ask them about any worries you may have about gluten in particular meat cuts.
Here Are Some Points on Fogo De Chao's Gluten Free Menu Options:
Meats: Fogo's grilled chicken, lamb, pig, and beef are all naturally gluten-free. Make sure any marinades you use are free of gluten.
Salad Bar: Steer clear of foods like spaghetti, bread, and croutons at the salad bar. Request dressings devoid of soy sauce or wheat. Pay attention to cross-contamination.
Sides: Limit your side dishes to rice, beans, plantains, and roasted vegetables. Steer clear of fried polenta and cheese toast.
Desserts: A nice choice would be fresh fruit. Steer clear of churros, flan, and tres leches cake as they most likely include wheat.
Drinks: Fogo's bar is fully stocked. Choose gluten-free alcoholic beverages such as wine, champagne, brandy, or beer with gluten eliminated.
Questions: Ask servers about ingredients, preparation techniques, and possible cross-contamination without holding back. Express your needs.
It is possible to experience Brazilian delicacies at Fogo De Chao gluten-free with careful preparation and handling of potentially dangerous goods like salad bars. Pay attention to grilled meats and sides that are naturally gluten-free.
Health Benefits Of Fogo De Chao's
The following are the principal health advantages of dining at the Brazilian restaurant Fogo de Chão:
High-quality protein: To stimulate muscle building and satiate hunger, grass-fed beef, hog, chicken, and lamb provide lean protein. The options for meat are virtually limitless.
Iron and B-12 – To avoid iron and B-12 deficiencies, red foods such as beef and lamb provide absorbable forms of these essential elements.
Weight Loss: All meat selections are lower in fat and carbohydrates, which can help with weight loss. Protein also speeds up metabolism.
Heart Health: Higher omega-3 levels seen in grass-fed and finished meats are beneficial to cardiovascular health.
Immune Support: Zinc, which is found in meat, helps the immune system battle disease and infections.
Mental Focus: Meat's iron, zinc, and B vitamins can improve focus, alertness, and cognitive function.
Energy: Meats with low glycemic index offer a consistent source of energy and guard against energy dumps later.
The unlimited high-quality proteins at Fogo make it simpler to stick to a gluten-free diet while improving nutrition, while vigilance is still needed at salad bars and sides. Just pay attention to the variety of fresh meat cuts!
Final Thoughts
When it comes to Brazilian steakhouses, Fogo De Chao is a gluten-sensitive foodie's dream come true. You can enjoy the flavors of Brazil without worrying about gluten thanks to a variety of naturally gluten-free choices. You'll have a wonderful dining experience if you just remember to let the staff know about any dietary restrictions.
Related Posts